Lady Stephanie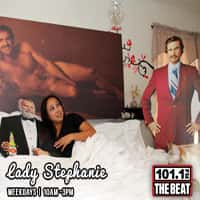 Nick Name(s): Chungarian, lil mousie, person of interest
Date Of Birth & Birth Place: 10-11- Oakland, CA
Motto (s):
A career is born in public — talent in privacy.
Smack it up, flip it, rub it down….Oh No!!!!
Three Qualities I Like In A Person: Honesty, Compassion and a sense of humor
Three Qualities I Dislike In A Person: Selfishness, Dishonesty and Negativity
Most Interesting Person I've Met?
Wow, there are a few
Kanye West- for his ego
Pope John Paul II- for his selflessness
Richard Simmons- for his sheer Awesomeness!
Alicia Keys- for her modesty
Musiq Soulchild- for his raw talent
Jay Z- for his intelligence
Three Favorite Artists: Musiq Soulchild, Alicia Keys and Jay Z
Favorite Sports team(s): Football- Miami Dolphins; Basket Ball- Phoenix Suns & Sacramento Kings; Baseball-Oakland A's
Favorite Quote:
I have 3-
"If I'd observed all the rules, I'd never have got anywhere"
"In the end everything will be ok, if it's not ok, it's not the end"
"I'm selfish, impatient, and a little insecure. I make mistakes, I am out of control, and at times hard to handle. But if you can't handle me at my worst, then you sure as hell don't deserve me at my best."
Favorite Foods: I love all food as long as it's not spicy I'll probably eat it. I'm always down for some good authentic Dim Sum and good sushi.
Most Embarrassing Moment On-Air: Um too many to name, accidentally flashing an artist might be on the list, but I'm not going into details.
You'd Never Know But: I don't know how to put this, but I'm kind of a big deal. I'm very important. I have many leather-bound books and my apartment smells of rich mahogany.
I'm Afraid Of: Sally Struthers, the Amish, Spiders, Clowns and a good thing.
My Weakness: CHEESE
Words of Wisdom: Never trust a big butt and a smile
Three Words That Best Describe Your Personality:
supercalifragilisticexpialidocious, sarcastic and provocative
How Did You Get Into Radio?
I used to work at a KFC, one day Strawberry (who now does nights in SF) came through the drive thru in the Wild 94.9 van with some other people. He told me to come by the studio sometime; so I did, and I fell in love with the behind the scenes of radio. I then switched my major from criminal justice to mass communications and got an internship at the radio station. I worked my way up and have been doing it ever since.
Other Talents:
tying cherry stems into knots and doing everything with gum in my mouth, even eating
What Would You Do If You Weren't In Radio?
Trophy Wife, Retired Millionaire or still work at KFC
If You Could Only Take Five Albums With You, What Would They Be?
B.O.B- The adventures of Bobby Ray
Cam'ron- Purple Haze
Dr.Dre- Chronic 2001
Erick Sermon- Music
Little Jackie – The Stoop
Catch me on twitter and facebook!



It seems like nowadays there are no new plots for movies. Instead we're hit with a barrage of sequels, prequels and redo's of films. Amazing classics such as  ghostbusters, terminator, every single Disney movie and even Coming