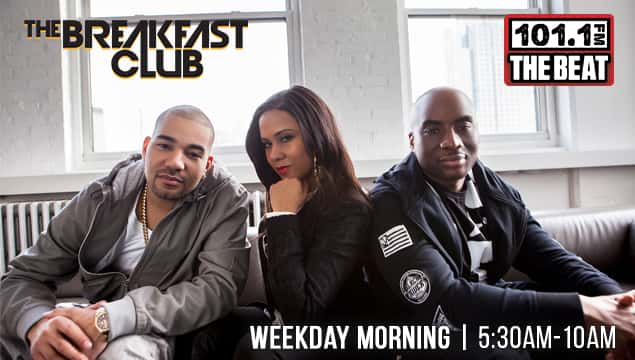 The Breakfast Club | Weekday Morning 5:30

am-10am
The Breakfast Club was formed in December 2010 with DJ Envy, Angela Yee, and Charlamagne Tha God. Despite the naysayers who thought there could never be a morning show with three equal counterparts, each personality brought their own unique strengths to the table.
DJ Envy is well-known for his music knowledge and club popularity, having worked at Hot 97and as the touring DJ for hip-hop superstar Fabolous. He has released numerous classic mixtapes and two major label albums. Envy won the 2015 Global Spin Awards coveted "DJ of the Year" award and spins at hundreds of venues throughout the year. Listeners relate to him as the ultimate family man and entrepreneur who encourages investment opportunities. He owns a percentage of the soft drink "Top Pop" and has opened numerous businesses including a sneaker store and car wash.
Angela Yee gained popularity for her inquisitive interviews, her support of up and comingartists, and her insightful advice. Yee has a background in marketing and management, startingher career as a marketing guru and working with legends such as Wu-Tang Clan, Eminem, andmanaging Jay Electronica. After putting in six years at Sirius XM hosting her Shade 45 morning show "The Morning After with Angela Yee" and her weekly nighttime show "Lip Service," shewas tapped to join the morning show on Power 105 in radio's number one market, New YorkCity.
Charlamagne earned his stripes for his harsh, yet honest critique of the culture, gaining notorietyas Wendy Williams' right-hand man and having hosted his own shows in South Carolina andPhiladelphia. Charlamagne has rightfully become the go to personality for artists to seekapproval from and to keep it real within the culture. He has been referenced in songs by high-profile artists like Drake in the infamous "Back to Back" song, Waka Flocka's "AskCharlamagne" track, and Migos' "Migos Origin" song. Currently, he hosts his show"Uncommon Sense" on MTV2 and his wildly successful podcast "The Brilliant Idiots."
The trio was formed and The Breakfast Club found their groove. After only two years, the showbecame nationally syndicated, and was soon after picked up as the flagship show on RevoltTV. For the past three years the show has been the number one radio program in "The Source"Power 30 issue, and in 2014 the New York State Broadcasters Association awarded "TheBreakfast Club" with the 2014 Outstanding On-Air Broadcast Personality Or Team Award.
Currently the show is syndicated in nearly 60 markets weekday mornings and their countdownshow Weekends with The Breakfast Club can be heard in 90 markets on Saturdays and Sundays.